FAQ Statement
Welcome to the Frequently Asked Questions (FAQ page). Below, we have tried to answer the most common questions visitors to this our Web site and our business may have. If you find that your question is not answered on this page, please e-mail us alptool@bellnet.ca or call us during business hours at (705) 876-0831

In order to meet our customers specific needs, we are flexible in all areas of fixture design and construction. However, the following gauge standards are an ideal we aspire to in each and every fixture.


General
All gauge designs are completed using Computer Aided Design (CAD)

All gauges are designed in metric.

The gauge will address all GD&T controls and "toleranced" surfaces as shown on the released part print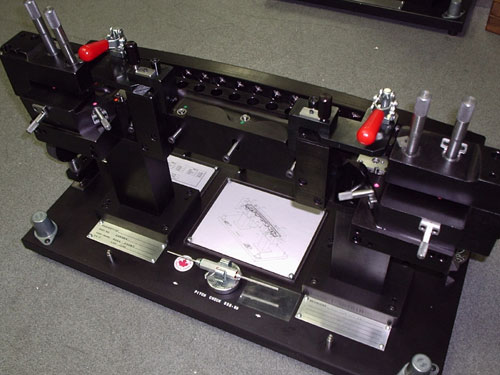 Design Considerations
Operator personnel safety.
Ease in part loading for the operator.
Rigidity of construction for operation, endurance & precision.

Design Layout & Orientation
All math models required for the gauge design are listed on the drawing.
Fixtures are designed with the base parallel to the X, Y, or Z plane of vehicle. Or in part print position as specified by the customer.
All fixture features are shown on the gauge drawing. Holes are identified and pin numbers accordingly.
All bases larger than 48 inch x 48 inches will be of welded construction.